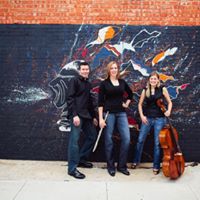 The Pangaea Chamber Players
Formed in 2012, the Pangaea Chamber Players strives to expand the boundaries of traditional chamber music through innovative programming and community involvement. The Pangaea Chamber Players have been featured on performance series throughout The United States and have been invited to perform at several national conferences. Dedicated to education and promoting chamber music, in 2013, the ensemble received a grant through the Oklahoma Arts Council to present a series of chamber music workshops and performances for Oklahoma schools. Additionally, their most recent project, Three Perspectives, explores the numerous ways in which music and art intersect. The compositions involved in this project will be released on a CD under the PARMA recordings label in the summer of 2019 and will be performed throughout a ten-day concert tour in China in the fall of 2019. Members of the Pangaea Chamber Players include Virginia Broffitt Kunzer, flute, Meredith Blecha-Wells, cello, and Jeffrey Brown, piano.

Meredith Blecha-Wells leads a dynamic career dedicated to both performing and teaching. Currently, she is the Associate Professor of Cello at Oklahoma State University, where she was recently awarded the College of Arts and Sciences Junior Faculty Award for Scholarly Excellence. Dr. Blecha-Wells received a Bachelor's and Master's degree in Cello Performance from Indiana University, studying under Janos Starker and Helga Winold. Additionally, she holds a Doctor of Musical Arts in Performance and Literature from the Eastman School of Music, where she served as the teaching assistant to Distinguished Professor Alan Harris. During her earlier studies, Dr. Blecha-Wells worked with Marc Johnson of the Vermeer String Quartet.  An avid performer, Dr. Blecha-Wells has performed throughout the United States and has participated in several festivals including the Taos School of Music, the Norfolk Chamber Music Festival, Spoleto Festival USA, the National Repertory Orchestra, and the Bowdoin International Music Festival.
Dr. Virginia Broffitt Kunzer is Assistant Professor of Flute at Auburn University, Principal 
Flute of the Symphony of Northwest Arkansas, Flute Mentor for the Hot Springs Music Festival, and a founding member of the Pangaea Chamber Players. Before her appointment at Auburn she served as faculty at Oklahoma State University and Western Illinois University and was the flutist in the Camerata Woodwind Quintet. She has also held positions in the Fort Wayne Philharmonic and Evansville Philharmonic Orchestra. 
A versatile musician, she has established a successful career as a teacher, soloist, orchestral musician, and chamber musician. Virginia has appeared as a soloist with the Symphony of Northwest Arkansas, Hot Springs Festival Orchestra, Quincy Symphony Orchestra, INTY Ensemble, the OSU Wind Ensemble, OSU Symphony Orchestra, and the WIU Symphony Orchestra. She is an active presence in the National Flute Association: performing at numerous conventions and previously serving as a Board Member and Coordinator of the Young Artist Competition. Among Virginia's notable accomplishments are winning the National Flute Association's Young Artist Competition in 2004.
A native of Iowa City, Iowa, Dr. Broffitt She holds degrees from the University of North Carolina School of the Arts (BM), and the University of Cincinnati College-Conservatory of Music (MM and DMA). Her past teachers include Randy Bowman, Dr. Tadeu Coelho, Jack Wellbaum, and Dr. Irna Priore. Virginia is a Miyazawa Performing Artist.

Jeffrey Brown has concertized extensively throughout the United States, Europe, and Asia as a solo recitalist, chamber musician, and soloist with orchestras. Recent performance highlights include the Dame Myra Hess Series in Chicago, the Kennedy Center in Washington D.C., and a series of recitals in China. 
He is a graduate of the Eastman School of Music, where he earned the Performer's Certificate, the Master of Music, and the Doctor of Musical Arts degrees. He studied with Natalya Antonova and served as her teaching assistant, and his early training was with Jane Allen at the University of Missouri. 
He has presented masterclasses at universities and conservatories throughout the United States, and he has served on the faculties of the Eastman International Young Artists Piano Competition and Festival and the American Institute of Musical Studies in Graz, Austria. He is Associate Professor of Piano at Western Illinois University.
Location: Legacy Hall Schwob School of Music, Columbus, GA 31901, USA