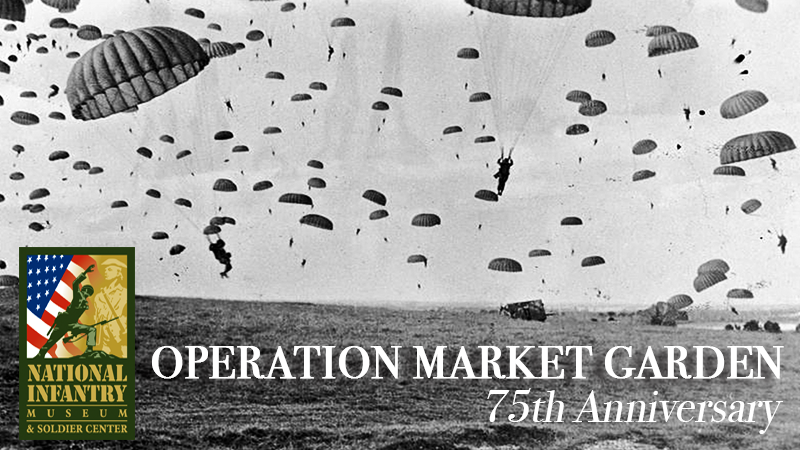 Operation Market Garden 75th Anniversary Observance
Please join us at the National Infantry Museum on Saturday, September 21 from 9am to 3pm for a special observance of the 75th anniversary of Operation Market-Garden.
Operation Market Garden was the Allied invasion of Holland, fought from 17 September to 25 September 1944 and was the largest Airborne operation in World War II (until Operation Varsity in March 1945). It was the brainchild of British Field Marshal Bernard Law Montgomery, and was planned primarily by General Lewis Brereton and his staff of the First Allied Airborne Army.
Market Garden consisted of two sub operations:
"Market" - an Airborne assault by the U.S. 82nd and 101st Airborne Divisions, British 1st Airborne Division, and the Polish First Independent Parachute Brigade, to seize key bridges in the Dutch cities of Eindhoven, Son, Veghel, Grave, Nijmegen and Arnhem, creating a "carpet" of Paratrooper and Glider troops.
"Garden" - a ground attack by XXX Corps and the British Second Army, moving over the seized bridges, to create a 64 mile salient into German territory, to secure the bridge in Arnhem and gain a foothold over the River Rhine, creating an Allied invasion route into northern Germany.
Despite the bridge in Son being destroyed by the Germans before it could be seized, chronic radio communication issues, and thinly stretched supply lines, Operation Market-Garden succeeded in liberating the Dutch cities of Eindhoven and Nijmegen along with many smaller towns and village along the 60 mile salient into German-held territory. It however failed to reach the British 1st Airborne Division holding the bridge in Arnhem in time. After more than 8 days of fighting, suffering more than 8,000 casualties and being outnumbered 4 to 1, the remaining British Airborne forces surrendered to the Germans on 25 September 1944 – the bridge at Arnhem would forever be known as "A Bridge Too Far."
Location: 1775 Legacy Way, Columbus, Georgia 31903